Singapore Garden Festival
Andy won Silver Medal on Singapore Garden Festival 2008 in Floral Windows to the World category. He named his piece "Indonesia – The land of Culture and Bio Diversity". Andy incorporated Batik, spices, and wayang (puppetry) to give a distinctive Indonesian flavour.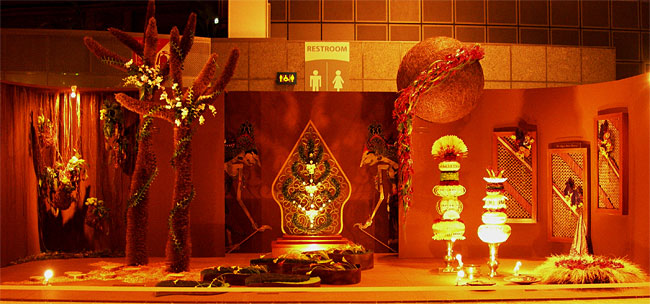 "Floral Windows to the World"
Indonesia ….The Land of Culture and Bio-Diversity
General Concept
As the largest archipelagic state in the world, Indonesia has more than 13.000 islands. Across its many islands, Indonesia consists of distinct ethnic, linguistic and religious groups. The diversity of its people enriches Indonesia with various cuisines, architectural designs, traditional costumes, and social custom. For so many years Indonesia has been famous for its own beauty of diversity.
Indonesia's archipelagic geography and tropical climate has also made it the second largest level of Bio–diversity in the world. With the bio diversity, it will always be interesting to see Indonesian exotic plans and flowers especially the Indonesian collection of orchids. Indonesia that lies in equator is also famous for its jungle and rainforest, which are called the lungs of the world. The jungle and the rainforest are home for many of endanger species that need to be protected from extinction. Protection to the rainforest is always one of the Indonesian government's focuses. Indonesia also has beautiful sceneries from the sea shore, to the rice terrace in the mountainous area. The Indonesian sceneries attract people from every corner of the world to come to Indonesian archipelago to see its beauty.
"Indonesia …. The Land of Culture and Bio Diversity" as the theme of the display, represents the Indonesian country in general, including the culture, sceneries, rainforest and the bio diversity. Every floral design in this display will represent one or more aspects of Indonesia. Side – by side in harmony with other designs, they will represent the complete Indonesia.
Brown as dominant color of the display represents the earth and woods of Indonesia. The color is also widely used in Indonesian culture such as the main color in batik painting and craft. Green as the second dominant color represents the jungle of Indonesia, the plants, the rice fields, and the symbol of life and hope. White, red, orange and yellow will accentuate the brown and green and brought the rhythm to each floral design in this display.
Detail concept of each floral design